What is Autcraft?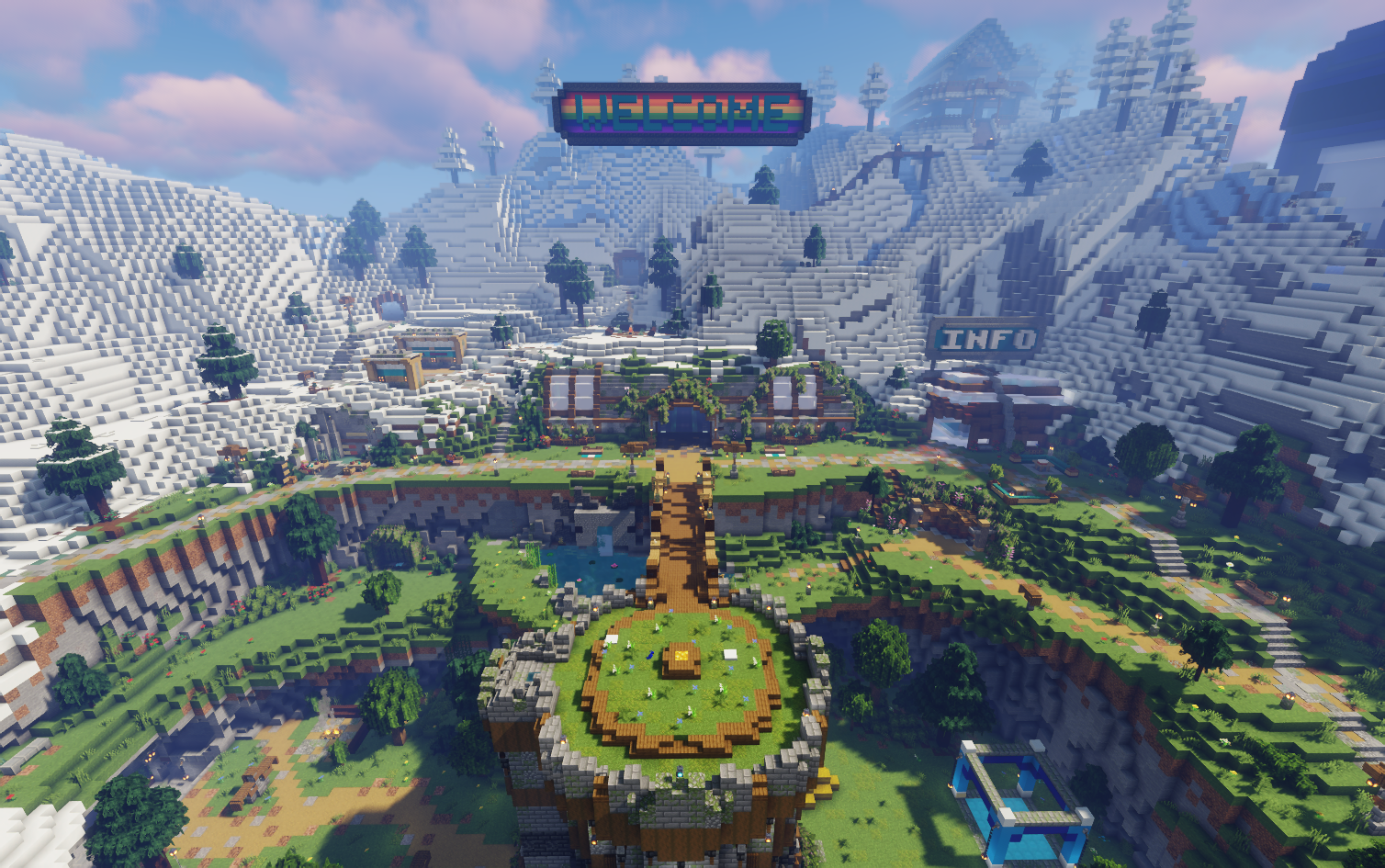 Founded in 2013, Autcraft was the first Minecraft server created for children with autism in mind. The founder, Stuart Duncan known in-game as AutismFather created Autcraft as a response to parents who did not know if their children could play their favorite game with others without facing the threat of bullying and discrimination. Stuart not only has autism himself but also has a child with Autism.
Autcraft is continually updated to the latest versions, with new features and activities added as more content is added to the game. Autcraft is currently using version 1.19.3, however players are able to join on other recent versions thanks to our plug-ins. 
Autcraft is administrated by adults that include autistics, as well as parents of autistic children or a family member of someone with autism. Other forms of staff include "Helpers" and "Apprentice" which are people of all ages that prove to be responsible, positive, and helpful with people, "SrHelpers" which are adults that demonstrate some knowledge of the game as well as having respect, responsibility, and helpfulness, and even "Buddies" who are people of all ages that are supportive and helpful to others.
Click here to find out more about how Autcraft came to be.
What makes Autcraft unique?
Multiple survival worlds and a creative world in which to build and explore.
Zero tolerance for bullying, griefing, and stealing.
Swearing is not tolerated.
In game ticket/support system (modreq).
Builds are protected with WorldGuard by using the modreq system.
All kills, blocks placed, blocks broken, items dropped, picked up, and more are tracked so that the admins can see exactly what happens on the server.
Mini-games including hide and seek, mob arena, spleef, and parkour.
Community Wither fights and other events.
Structured ranking system.
Thinking about others system.
Calm Rooms
Spam Rooms
Autcraft is more than just a community

Autcrafters having fun in Spawn 3
Autcraft is more than just a community for those on the Autistic spectrum. It is also a place where adults and children alike with Autism can play and enjoy the game with others like them without the fear of being bullied or misunderstood. The amazing thing Autcraft brings to the table compared to other servers/Communities is that we encourage our players to not only be compassionate and helpful to others, but we also discourage any form of discrimination, bullying, disrespect, and foul language.
Because of how open and compassionate members of this community are, this gives children and adults the most powerful tool they can wield - the ability to be themselves. The results of this have been extraordinary. Because of the community, many people with Autism who have played on Autcraft have had day-to-day improvements in their lives.
They are becoming much happier, more positive, and better role models.
People speaking who haven't been able to speak before.
People reading who couldn't read before.
People who have never made friends before making friends.
Much fewer meltdowns.
How does that happen? - We don't discriminate against people based on what they like. It doesn't matter if they like My Little Pony, Star Wars, Pokémon, ladybugs or the color purple. No one on Autcraft will discriminate against you for your interests.
Autcraft isn't an extraordinary place. It's a place that just so happens to be the home of extraordinary people. So many people see Autism in a negative light, but we are all human beings, and having Autism doesn't make you any worse than anyone else. Autism is cherished on this server, and many people here are proud to have it.
Currently, the server has over 15,000 players on the whitelist with an average of 1,200 unique players on the server each month.
More than just mining and crafting

Wither arena - Forest
Community Wither Fights
On a fair few occasions, the community gets together with an admin who hosts a wither fight - it's not just against one wither and it contains a fair few other mobs - like a gigantic battle arena, players VS enemies. On 23rd June 2020, Autcraft's 7th anniversary, the Wither fights got a bit more complex wielding 3 unique fights.
These enemies can range from specially equipped zombies to the likes of ghasts, creepers, Kings, and much more! What's so amazing about these events is the fact that it brings an entire community of people together to have fun and work as a team, even when there are limited drops such as the nether star.

Hogwarts Community Build
Community Build Teams
Community Builds are rare and far between but sometimes an admin has a build in mind and needs the player's help to build it. Oftentimes these teams are assembled not in public but occasionally these teams are public and open to anyone who wants to help out. Some of these builds have limited space and you may not get in.

The T.A.R.D.I.S - Hall of ranks and POTW
Player of the Week (POTW)
Autcraft has a strong belief that compassion and being yourself can open your world up to a whole lot of wonders. So it's no surprise to see that one of the most popular events, which happens every Saturday afternoon, commemorates those who put others before themselves and show great self-growth. Player of the week happens within the T.A.R.D.I.S and the player is chosen by the admins based on their respect, kindness, and general helpfulness. The POTW isn't ever perceived as "better" than anyone else - after all, everyone on Autcraft is treated equally. POTW is generally treated as a metaphorical high-five or pat-on-the-back for a job well done.
Autcrafters are rewarded for doing what's right, and also for being who they are and not what society expects them to be, and just being happy for who they really are and what they enjoy doing.
Helpers, Senior Helpers and Admins
Not only is the community for those with Autism, but it's also run by those who have Autism. There are so many servers in which the Admins do not interact with their players and/or feel like they are above everyone else, but the Helpers, Senior Helpers and Admins within the Autcraft community are just like you and me. They aren't above anyone else and they should never act like they are. They are also trusted members of the community and will do anything in their power to help you. These ranks are earned in similar ways to POTW.
Information to Know
On Social Media
---